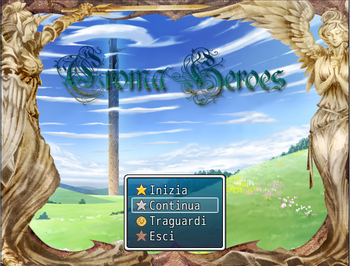 Croma Heroes is a JRPG created with RPG Maker VX Ace and published in 2015 by Zoro the Gallade. It is part of a series which currently includes a prequel, Croma Zeroes.
The prequel tells the story of two kids named Scarlet and Xanthe, and their childish adventures in a in a typical fantasy setting adventure. The main game has the duo, now grown up into adults, take on a much more traditional JRPG adventure, with a wide supporting cast and a large world to explore.
The first game can be downloaded here
. The original download link for Croma Zeroes no longer works.
The series contains examples of the following tropes:
open/close all folders
Croma Zeroes
Badass Normal: Scarlet and Xanthe are just kids armed with firecrackers, toy swords and boxing gloves. They are capable of taking on and beating adults into submission.
Jerk with a Heart of Gold: Xanthe.
Croma Heroes