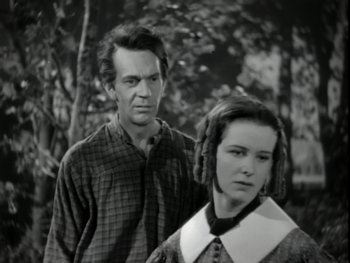 Abe Lincoln in Illinois is a 1938 play by Robert Sherwood. It is a study in the life of you-know-who, starting with Lincoln as a young man in his twenties in search of his destiny. He loves and loses Ann Rutlege, marries Mary Todd, overcomes a pile of debt incurred when his general store fails, and establishes himself as a lawyer and a politician. The third act of the play deals with Lincoln's famous campaign against Stephen Douglas for the U.S. Senate in 1858, then his campaign against Douglas again (and others) for the presidency in 1860. The play ends as Lincoln leaves for Washington to be inaugurated.
In 1940 the play was adapted for film, with Raymond Massey, who originated the role on Broadway, reprising his part. Massey's deep, rumbling voice would for decades be strongly associated with Lincoln, despite the fact that Lincoln's real voice was quite a bit higher. The film was directed by John Cromwell, and also marked the screen debut of Ruth Gordon, as Mary Todd.
See also the film's Dueling Movies opponent, Young Mr. Lincoln, released the year before.
---
Tropes: