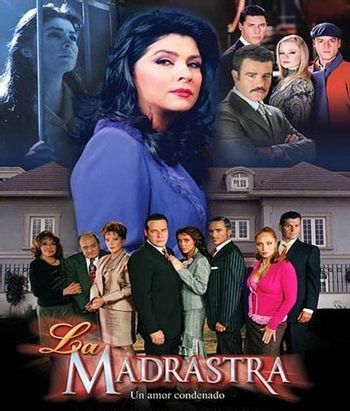 "Y aquí me tienes... en esta celda donde pasaron los últimos años de mi vida, lejos de mis dos hijos, lejos de mi tierra, de mi casa, pagando por un crimen que yo no cometí mientras que el verdadero asesino debe estar entre ellos. (And here, you have me... in this cellar where I've spent the last years of my life, away from my two children, away from my land, of my home, paying for a crime that I never committed, whereas the true murderer... must be among them.)"
— María Fernández Acuña, Episode 2
"I can think of fifteen network shows that I
understand
that aren't this good!"
La madrastra (The Step-Mother) is a 2005 Mexican telenovela, based actually on a Chilean one from The '80s. It stars Victoria Ruffo as María Fernández Acuña, an ingenue young woman who, due to a gross Miscarriage of Justice, is incarcerated for twenty years for the murder of her friend Patricia, which she did not commit.
After being released from jail, María returns to Mexico City with three purposes: to exact revenge on her husband and friends who abandoned her to the Aruban justice system, to find Patricia's real murderer, and to be reunited with her children, who believe her to be deceased and, once she marries their father, think she is their stepmother.
---
This show provides examples of:
---