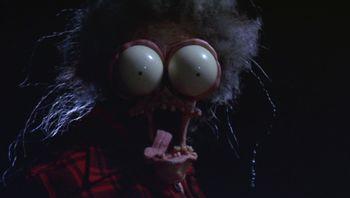 This is a man who virtually defined the Nightmare Fuel trope. Just some sketches from his exhibit in New York City at the Museum of Modern Art alone is more than enough to give any child (and quite a few grown ups) reoccurring nightmares. In short, Jack Skellington wasn't our Nightmare Fuel icon for nothing before the site icons were revamped.
---
Works with their own pages:
After Willy Wonka's boat ride, the Trope Maker of Nightmare Fuel is our old friend Large Marge. And the evil clown dream sequence was rough going as well.

See also the sequence where Pee Wee's bike is initially stolen; the formerly smiling, cheery mechanical clown he'd shackled his bike to suddenly adopts a pretty terrifying leer and a cackle sounds off.
The animation style used for Large Marge would later be used for several scenes in Beetlejuice.
The whole movie has an indefinable creepy vibe to it, really, even the non-scary scenes. Pee Wee's (and Francis') Manchild nature is can really be unnerving more than amusing. And yeah, Danny Elfman's Circus of Fear BGM ramped things up.
Edward ripping apart the Boggs' curtains and tapestry in a fit of jealousy over Kim and Jim.
Edward can get a pretty unsettling expression whenever he's scared or angered, particularly the latter.
Jim is a more mundane example. On the outside, he's a clean-cut and well-to-do kind of guy, but get his girlfriend's attention and the illusion shatters, revealing a murderous thug who won't stop until the source of his hatred is dead.
Oyster Boy and Other Stories
This little book is extremely creepy even by Burton's standards. It features such stories as one about a girl who turns into a bed, a hideous penguin boy, and a pin-cushion queen.

In the poem Melancholy Death Of Oyster Boy , the title character gets eaten by his own father at the end. As an aphrodisiac!
Then there's Mummmy Boy. At the very end of the poem he's walking in the park with his mummufied canine companion, unfortunately it's on the exact same day as a Mexican Girl's birthday party. The Mexican Girl and the other kids mistake him for a pinata and smash him with their sticks and scarab beetles and other things come out from inside of him.
Incidentally, Burton showed Danny DeVito the drawing of Jimmy the Hideous Penguin Boy to give the actor an idea of how the Penguin's character would be approached when they were getting ready to shoot Batman Returns...
The Pincushion Queen.
Most, if not all, of the drawings qualify for this trope to some degree.
Other Stuff
---