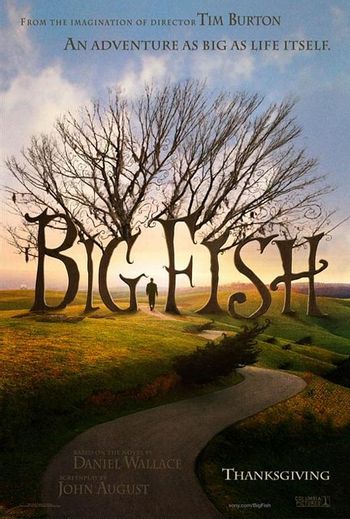 A 2003 fantasy drama film written by John August and directed by Tim Burton, based on the novel by Daniel Wallace.
Will Bloom, a journalist (Billy Crudup), returns home with his wife to visit his dying father Edward (elder played by Albert Finney, younger played by Ewan McGregor). He is displeased to find that his father continues to tell the same old tall tales he's told all his life. Still, he's determined to write his father's story, and searches for some of the people his father crossed paths with. The further he searches, the more he finds that those stories might not be as far-fetched as they once seemed.
---
This film provides examples of:
Solitary Sorceress: The Witch lives either on the outskirts of the town of Spectre or somewhere near the suburbs where Edward grew up, depending on which of his stories you listen to.
Something Completely Different: Go back and check. This is the first Tim Burton film to depict a functional American family whose members, while they certainly have their eccentricities, most definitely do not hate each other and are able to resolve internal conflicts with love and tolerance. (Contrast Beetlejuice, where the Deetzes do get their act together in the end, but it literally takes a trip to Hell and back for them to do so.)

Also, the dark/magic world is fully reconciled with the real world.
---