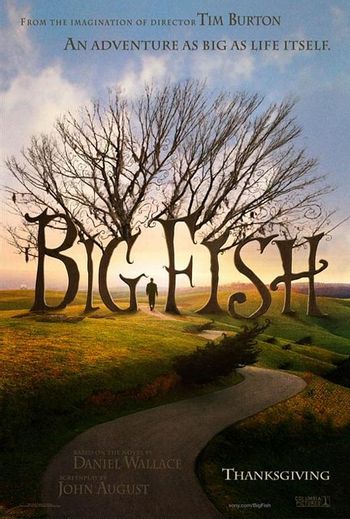 Big Fish is a 2003 fantasy drama film written by John August and directed by Tim Burton, based on the novel by Daniel Wallace.
Journalist Will Bloom (Billy Crudup) returns home to Alabama with his wife Joséphine (Marion Cotillard) to visit his dying father Edward (elder played by Albert Finney, younger played by Ewan McGregor). He is displeased to find that his father continues to tell the same old tall tales he's told all his life. Still, he's determined to write his father's story, and searches for some of the people his father crossed paths with. The further he searches, the more he finds that those stories might not be as far-fetched as they once seemed.
The film also stars Jessica Lange as the elder Sandra Bloom, Helena Bonham Carter as Jenny Beamen, Alison Lohman as the younger Sandra Bloom, Robert Guillaume as Dr. Bennett, Steve Buscemi as Norther Winslow and Danny DeVito as Amos Calloway.
---
This film provides examples of:
---