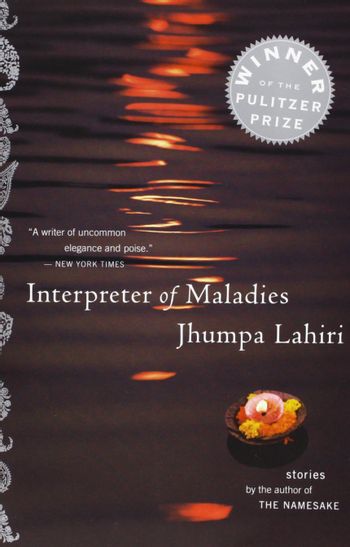 Interpreter of Maladies is the debut short story collection written by Jhumpa Lahiri, released to universal critical acclaim in 1999. In a case of First Installment Wins, the book won the Pulitzer Prize in 2000, beating out contenders from various well-established writers. The New Yorker listed it as the Best Debut of the Year, and Oprah Winfrey has it on her Top Ten Book List. It has since sold over 15 million copies.
The stories mainly focus on the lives of various Indian Bengalis (or Americans who know Bengalis), and examines the cultural disparities and societal structures those of Indian origin face. The themes mainly revolve around family structures as well as the barriers of language, dignity, and normalcy people must overcome when dealing with various situations. The book is notable for giving special attention to the lives of women and how they become defined through Western and Eastern attitudes toward marriage, cooking, or language.
The first three stories of the book are going to be adapted as a film trilogy; more information can be found here
.
---
List of stories:
"A Temporary Matter"
"When Mr. Pirzada Came to Dine"
"Interpreter of Maladies"
"A Real Durwan"
"Sexy"
"Mrs. Sen's"
"This Blessed House"
"The Treatment of Bibi Haldar"
"The Third and Final Continent"
---
"The Trope-ment of Bibi Haldar":
---