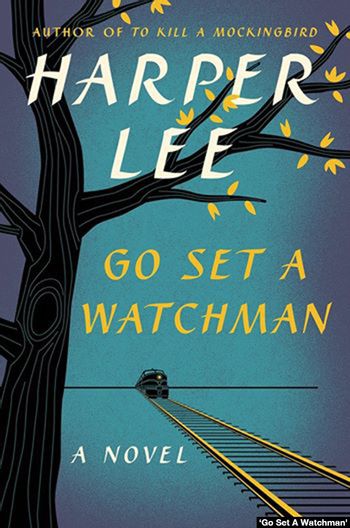 Go Set a Watchman is a 2015 American novel that was written by Harper Lee. It has been marketed and reviewed as the "sequel" to the 1960 novel To Kill a Mockingbird.
Originally, Go Set a Watchman was her first book — a rejected first-draft manuscript that Lee proposed to her editor. It contained many flashbacks to Scout's childhood, and the editor liked those and proposed that she expand them and make that her book. That was To Kill a Mockingbird, and the manuscript for Go Set a Watchman was supposedly lost for years. It was rediscovered in a safe deposit box in Monroeville, Alabama, and it was published on July 14, 2015.
The novel takes place twenty years after the events of the first novel, as a now-adult Scout returns to Maycomb to visit her father. To her horror, she realizes that her father, whom she's idolized for his integrity, expresses racist views, and the novel is her coming to terms with him and her town.
There was controversy upon the announcement of the long-awaited "sequel" in two ways: 1) whether the book should even be published and 2) the way its discovery came about. Harper Lee had for years vehemently refused and denied there would ever be a sequel. The manuscript's "discovery" came only after her lawyer won power of attorney and was going through Lee's assets; she then sent the manuscript to a publisher. Direct and close friends questioned whether Lee, now in her late 80s and of questionable mental clarity, knew what was really going on or was being taken advantage of, having for decades refused to compose any new material on Atticus and Maycomb note although she helped Truman Capote with the research on In Cold Blood and had worked on for a long time, but never finished, a book about Rev. Willie Maxwell, who may have committed a series of insurance-related murders, finally concluding "I do not have enough hard facts about the actual crimes for a book-length account", that there were really only legends and hearsay left to be found, and "there is no cassette tape long enough to measure human vanity." only to suddenly acquiesce to a whole book so soon after a change in power of her estate. Her attorney denied all allegations, said Lee was "excited as hell" about the upcoming printing, and so the book was published with all the fanfare a long-lost work demands.
---
Tropes:
---