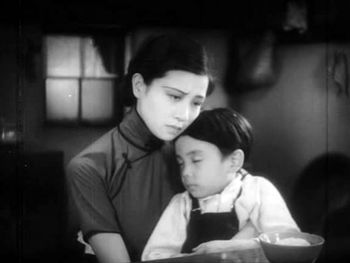 The Goddess (神女, Shénnǚ) is a 1934 Chinese silent film. The unnamed protagonist is a young woman in Shanghai who is prostituting herself to provide for her infant son. One night she dives into a random door in order to avoid a police raid. Unfortunately for her the apartment she hides in is inhabited by a thuggish lout of a man who runs a gambling den. The man first strongarms her into having sex with him in exchange for hiding in the apartment, then later looks her up again and forces himself into her life as a most unwelcome pimp. The woman tries to raise her son while dealing with her pimp and struggling with the social stigma of her life as a prostitute.
The Goddess treats prostitution with a frankness and honesty that Western films would not approach for decades. Star Ruan Lingyu killed herself in 1935 aged only 24, after multiple bad relationships had made her a target of the Chinese tabloid press. Her story was dramatized in the 1991 film Center Stage, starring Maggie Cheung.
For another tearjerker starring Ruan Lingyu, see Peach Blossom Weeps Tears of Blood.
---
Tropes: