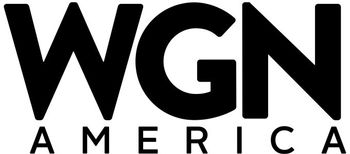 "WGN! Entertaining America!"
— Former slogan for the national channel as a superstation from 1997 to 2000.
WGN America is an American cable network that carries a mix of entertainment programming. The channel began in October 1978, when United Video Satellite Group uplinked Chicago television station WGN-TV (the calls stand for World's Greatest Newspaper, in reference to its now-former newspaper sister, the Chicago Tribune, and are also used by sister radio station WGN-AM), an independent station owned by Tribune Broadcasting (then known as WGN Continental Broadcasting Company, and a subsidiary of the multimedia conglomerate Tribune Media). It became the second national superstation in the United States (after TBS, which was uplinked to satellite three years earlier), a broadcast television station uplinked to satellite for distribution to cable systems on either a regional or national basis.
It started out as a direct feed of WGN-TV, carrying the Chicago station's programming and advertisements, except for certain sports events that had to be blacked out due to league broadcast regulations. Its bread and butter for much of its history (and one of the things that made WGN-TV one of the strongest independent stations in the U.S., and the highest-rated indie station by far in Chicago) was WGN-TV's extensive slate of sports events, and was known for many years (1978 to 2014) as the home of the Chicago Cubs, White Sox and Bulls (Tribune incidentally owned a stake in the Cubs for several years until 2008). WGN arguably received a higher profile thanks to the Bulls' dynasty under Michael Jordan during the late 1980s to mid-1990s, when the team won several NBA championships. This almost ended in 1996, when cable provider TCI nearly dropped the channel
in five Midwestern states because of a dispute between the NBA and Tribune over WGN's national broadcasts of Bulls games. Both situations resolved themselves: the WGN national feed was allowed to carry a limited schedule of Bulls games outside of Chicago, and subscriber demand led TCI to renege on pulling the channel
. Although WGN-TV almost lost the Cubs in 2014, until the team reached a deal with the city's ABC and MyNetworkTV stations, WLS-TV, and note WGN's one-time local indie rival until it joined UPN in 1995 WPWR-TV, to split over-the-air rights with WGN, the station's continued extensive carriage of sports (by way of Tribune's contribution to keeping local telecasts of pro sports on broadcast TV on several of its independents-turned-CW affiliates) makes it a unicorn among major-market broadcast stations, which have lost sports rights to regional sports cable networks like Fox Sports and Comcast SportsNet (which splits the rights to all four teams that WGN-TV carries for its Chicago network).
Besides that, it mainly carried a mix of older movies, off-network sitcom and drama reruns, cartoons, and first-run syndicated shows (including several produced by Tribune's syndication division, Tribune Entertainment). Its superstation status also gave WGN-TV's Chicago-based local programming a bigger profile. In fact, Bozo The Clown can thank WGN America for its national distribution on cable and satellite for helping further elevate the show's popularity outside of Chicago. For years, kids across the country joined those in Chicago in waking up every weekday morning (later Sunday mornings, after WGN launched its own weekday morning newscast in 1994) in watching Bozo's entertaining mix of cartoons and games; however, Executive Meddling led to the downfall of the show, as WGN-TV reformatted Bozo into an Edutainment Show to comply with E/I regulations enforced by the Federal Communications Commission. Bozo was controversially cancelled by WGN-TV in 2001, but the superstation feed continued to carry WGN-produced Bozo specials for years after it ended.
A section of viewers also regularly watched WGN's news programming on the superstation feed, particularly its primetime newscast (which actually beats Fox owned-and-operated station WFLD's lower-rated local newscasts in the Chicago market), because of its staid and concise reporting, not to mention the weather lessons illustrated by the dean of Chicago weather, Tom Freakin' Skilling
note Actually, his middle name is Ethelbert, during his forecast segments; even as other primetime newscasts launched across the U.S., some viewers chose to watch WGN's 9:00 p.m. newscast over local primetime newscasts on Fox affiliates and other stations. However, many of the newscasts that WGN-TV launched after 1994, got Screwed by the Network, as the morning show was dropped by the national feed in 1996note Reportedly due to syndication exclusivity claims on certain stories, while the newscasts it launched in the early evening and weekend mornings as well as the 11:00 a.m. hour of the midday show (which it only aired the noon hour of) from 2008 onward never aired outside of Chicago.
Furthermore, the WGN superstation feed gave Tribune's network venture with Time Warner, The WB, a major boost when it launched in January 1995, carrying its programming for the network's first four years on the air until it could court additional affiliatesnote However, even though WGN-TV carried only primetime shows from The WB and competing independent WCIU-TV carried Kids' WB! programs from that block's launch in September 1995 until September 2004, the WGN "superstation" feed carried the full WB network schedule. That all ended in October 1999, when Time Warner and Tribune decided to drop The WB from WGN outside of Chicago (WGN would remain a WB affiliate until the network was folded into The CW in September 2006), after gaining more local market coverage by snagging some available independent stations and UPN affiliates, and launched a customizable national cable feed for the 110 smallest markets called The WeB (subsequently renamed The WB 100+ Station Group) in September 1998, which mixed syndicated shows with network programmingnote For similar reasons, this is why even though WGN-TV became a CW affiliate in the Chicago market, the national WGN never carried programming from the network when it launched in September 2006, since The CW had sufficient national coverage, particularly through its small-market feed, The CW Plus. Ironically, The WB being dropped by WGN was one of the factors in its eventual downfall, as it caused The WB to lose 19% of its household audience, busting it to sixth place the season after the two cut ties.
After dropping The WB, WGN began losing cachet with viewers as the number of cable TV options expanded. The Cubs' descension into mediocrity, and the fact that the White Sox and Bulls began middling didn't help matters either, nor did an FCC rule known as Syndex
note Short for "syndication exclusivity", that resulted in Tribune choosing to pick up shows that could only be aired in Chicago by WGN-TV to avoid issues with stations that claimed exclusivity for them in other markets for national viewers after the law was passed in 1990. The channel adopted a distinct brand in 2001, first as WGN Superstation and then to Superstation WGN; then in 2008, it changed its name to WGN America to make it clear to viewers it wasn't just a station serving just Chicago or the Midwestern U.S., but the entire country; however, by this time, it was really WGN-lite, with almost none of WGN-TV's non-local programming on its schedule; in fact, when the Chicago Blackhawks ended their OTA blackout in 2007, giving WGN-TV partial rights to the team, the only way viewers outside of Chicago could see the WGN game telecasts would be either to purchase the expensive NHL Center Ice package or move to Chicago or Canadanote Canadians began receiving WGN-TV on cable in 2007 due to a license fee increase that caused Shaw Broadcast Services to switch from the "superstation" feed to the actual Chicago broadcast signal (WGN-TV is one of many U.S. stations authorized for carriage on Canadian pay TV providers by the Canadian Radio-Television and Telecommunications Commission, the Great White North's FCC analogue); WGN America remained available in some parts of Canada until Tribune asked cable providers to stop carrying the channel when it became a conventional cable network in December 2014. The Superstation WGN era was the last time the national channel used some form of the same logo branding as WGN-TV, as the WGN America rebrand introduced a short-lived logo
◊ which harkens The Movie Channel's 1988-1997 "eye and profile" design
◊, before the channel switched to an old-school logo
two years later.
Then after the Tribune Company got out of bankruptcy in 2013note Caused by a $13 billion debt load incurred from Sam Zell
's 2008 buyout of the company, its newly appointed CEO Peter Liguori (who was partly responsible for the varying degrees of Network Decay with Discovery Channel and its sister networks) decided to Retool WGN America as a traditional general entertainment network, partly to keep providers from dropping the channel. After cutting off the 9:00 p.m. newscast to non-Chicago viewers earlier that year (to the consternation of people who can't work a PC, tablet or smartphone to watch it onlinenote There was actually a Facebook page
trying to convince Tribune to put the primetime newscast back on WGN America (the channel continued to air its noon newscast and added the 4:00 to 6:00 a.m. block of the WGN Morning News until the conversion to a basic cable channel), but it failed to do just that. Although they may have something on that front, since WGN-TV's website doesn't stream the full sports segments within its newscasts online due to league streaming restrictions) to add original shows such as Salem and Manhattan, in December 2014, Tribune Broadcasting severed all ties to its Chicago parent and became a regular cable network; to that end, it dropped WGN-TV's newscasts, sports and public affairs programming cold turkey, effectively ushering the death of the national superstationnote Three of WGN's sister stations – KTLA in Los Angeles, KWGN-TV in Denver and WPIX in New York City – continue to operate as superstations on a regional basis (among five such stations still authorized for such distribution by the FCC), and are still available nationally on Dish Network. Though much to the confusion of Chicago residents who now get WGN America on cable
note The only way Chicago residents could see the national channel beforehand was through DirecTV and Dish Network on satellite, it still shares the three-letter initials/call letters of the broadcast station. However, the downside of the change is that if you subscribe to a "limited basic" cable package that just has local stations and community access channels, you have to upgrade to a more expensive channel tier to get the channel now, and its channel slots post-conversion are somewhere in the 50s to the 70s of the expanded basic package.
In 2017, all of the original drama series were canceled in the lead-up to parent company Tribune Media's announced acquisition by Sinclair Broadcasting. This was part of a "network revamp", with many speculating that Sinclair hoped to turn WGN into a Fox News competitor. Sinclair later stated that WGN America's carriage contracts with cable companies are contingent on it being an entertainment channel. Ultimatly, the Sinclair deal was called-off due to Sinclair basically trying to keep every single Tribune station and not spin anything off.
Sinclair's equally-big, if not quite so odious, rival Nexstar Media succeeded in their bid to acquire Tribune and did so in September 2019. It wasn't clear what Nexstar's plan for WGN America was, but they eventually announced plans for NewsNation
, a three-hour primetime newscast to be aired on WGN America. The goal is to leverage Nexstar's immense amount of stations and dissatisfaction among people with heavily-politicized newscasts and networks. Produced out of WGN's West Bradley Place studios in Chicago (in space once intended for sister radio station WGN 720), the program debuted on September 1, 2020. (Incidentally, this wouldn't be the first time WGN America carried a national newscast; back in the 1980s, they carried Independent Network News
, produced out of then-sister station WPIX in New York.)
In January 2021, Nexstar announced they were dropping all pretenses and would rebrand the channel as NewsNation beginning in March of 2021, corresponding with the launch of additional news blocks. Part of the announcement also included that the WGN America brand would live on during daytime general entertainment blocks in between news segments, at least until the syndication contracts expire and the network can launch more news blocks into those time slots.
---
Original programs aired by the network include:
---