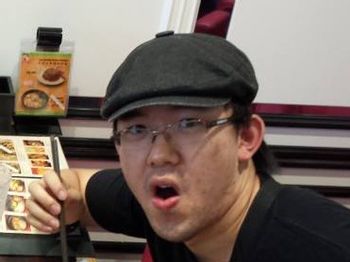 "I'm wizwar100, you're the viewers and I'm the reviewer."
Al Snow Mok (also known as Wizwar100 or Wiz) is a video game reviewer on youtube and one of the founders of River Cityt Gamers. He was first known back in 2006 during the time Angry Video Game Nerd (Angry Nintendo Nerd back then) along with other reviewers like Armake21 and Playitbogart rose to video game reviewing back in Youtube's early years. He also inspired other people to do video game reviews such as the other reviewers on his site such as SCXCR, Blondeguygamer, and even SpoonyOne
Starting in 2013 after a long hiatus from reviewing from procrastinating, Wizwar100 returns with a new set of series of videos in addition to his main video game reviews (Which are just variations on his review):
Is It Worth It?: The reviews that take an in depth look of the good and bad sides of the games he reviews, and at the end tells you in his opinion 'Is It Worth It?' and giving a recommendation on it.
Video Game Quickies: As it is written, he reviews video games quickly usually lasting around 5 minutes or less un he's reviewing the sequels in the game.
Sunday Showcase: Not so much reviews, but more Lets Plays he post every sunday to showcase the games he owns highlighting the more interesting moments within the span of 15 minutes and runs a poll that anyone can vote in on the next game(system) he'll play. Unlike his Lets Play channel where he (fails to)fully plays through the games.
List of video games (or material) he's reviewed (or did a video on):
open/close all folders
Is It Worth It?
Chaos Field [GB]
Nintendo E-Reader [GBA]
Mario E Party
Mutant Mudds Deluxe [PC]
NES Remix 1&2 [Wii U]
Fifa World Cup Bootleg Polystation [NES?]
Video Game Quickies
[[/folder: Sega Genesis Games]]
Alex Kidd in the Enchanted Castle
Alien Storm
Altered Beast
Arrow Flash
Bonanza Brothers
Chakan the Forever Man
Columns 1&3
Comix Zone
Crack Down
Decap Attack
Ecco the Dolphin
The Tides of Time
Ecco Jr
ESWAT City Under Siege
Sunday Showcase
Power Rangers [SNES]
Super R-Type [SNES]
Jungle Book [SNES]
Tecmo's Deception [PS1]
Porky Pig's Haunted Holidays [SNES]
Eternal Darkness [GC]
Splatterhouse [PS3]
Expendable [DC]
A Bugs Life [PS1]
Donkey Kong Land [GB]
Zoids Battle Legends [GC]
Nuclear Throne [PC]
D2 [DC]
DKC Tropical Freeze [Wii U]
Silent scope [DC]
Kirby's Dreamland 3 [SNES]
Shantae Risky's Revenge [PC]
Lifeless Planet [PC]
Sonic 3D Blast 5 [GB]
Puzzle Road [GB]
Aladdin [SNES]
Teleglitch [PC]
Electric Super Joy [PC]
Shadow Dancer [GEN]
Jamestown [PC]
Wheel of Fortune 2003 [PC]
Bit Trip Runner [PC]
Super Amazing Wagon Adventure [PC]
Wind Forge [PC]
Half-Minute Hero [PC]
Go check out his videos on Youtube
and his Site
. He also has a Twitter
and Facebook
to follow for updates.
---
Tropes that Wiz War 100 invokes: