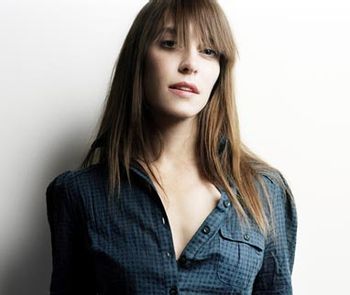 Leslie Feist (born 13 February 1976) is a Canadian Indie Pop artist known for her solo career and work with several high-profile Canadian bands.
At age 15, Feist began her career by performing in a punk rock band named Placebo (not that one), which at one point shared a festival bill with The Ramones and opened for Radiohead in 1993, but damaged her vocal chords during a concert in 1998. Since she couldn't sing, she had to take up playing guitar and bass for various bands, including By Divine Right.
Fortunately, she regained her voice, although it was deeper and smokier than before. After she received a grant from the Canadian government, Feist released her debut album Monarch (Lay Your Jewelled Head Down). While the record was an underground hit, Feist didn't think highly of it, and let it go out of print. After moving in with a friend, Merrill Nisker (aka Peaches). Feist worked the back of the stage at Peaches' shows, using a sock puppet and calling herself "Bitch Lap Lap." She also collaborated with Peaches, appearing as a backing vocalist on The Teaches of Peaches and "Give 'Er" from Impeach My Bush. She also appeared in the music video for Peaches' "Lovertits", in which she makes love to a bike.
Feist (along with several other Canadian indie bands) formed the supergroup Broken Social Scene. During this time, she also recorded her breakout album, Let It Die, in 2004. Three years later, she released The Reminder, which was an even bigger success that spawned a hit single. That song, "1234", appeared in an iPod nano commercial and hit #8 on the United States pop charts, which was a rare accomplishment for an indie musician. The song was also a hit on the strength of downloads alone.
Since The Reminder, Feist has toured with Broken Social Scene, collaborated with fellow indie bands Grizzly Bear and Wilco, and covered Skip Spence's Oar with Beck, Wilco, Jamie Lidell and James Gadson. A documentary film, Look At What The Light Did Now, chronicling the making of The Reminder in a Paris mansion, was also released in 2010.
Discography:
Monarch (Lay Your Jewelled Head Down) (1999)
Let It Die (2004)
Open Season (2006 - remixes and collaborations)
The Reminder (2007)
Look At What The Light Did Now (2010 - contains live performances, new songs, and piano instrumentals)
Metals (2011)
Pleasure (2017)
---
Some tropes embodied by Feist and her work include:
---