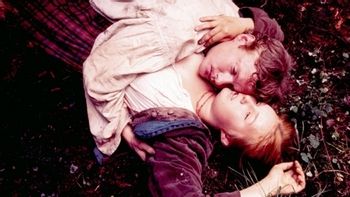 Siberiade (Сибириада, Sibiriada) is a 1978 Soviet epic drama directed by Andrei Konchalovsky. It is the story of life in a small Siberian village over three generations and sixty years, 1904-1964.
The small village of Yelan lies by a river in the heart of the Siberian taiga. It is isolated and remote, cut off from the outside world by the sheer vastness of the Russian steppe. The story begins in 1904, and focuses on two feuding families, the Solomins and the Ustyuzhanins, with the former being the richest family in the village and the latter being poor. Afonya Ustyuzhanin is something of a Cloud Cuckoolander, who once lived as a hunter but now spends all his time building, by himself, a literal road to nowhere in the forest. Despite the enmity between the clans, his son Nikolai ("Kolya") falls in love with Anastasia ("Nastya") Solomina, who is also being pursued by Phil Solomin, one of her more distant relations. Kolya is banished from the village for pissing the Solomins off, but returns many years later with his son Alexei (Nikita Mikhalkov).
Kolya embraced Red October with enthusiasm, and is now working for the Soviet regime, trying to find oil and natural gas deposits in the countryside around Yelan. Spiridon Solomin, Nastya's brother, hates him for taking Nastya away, and opposes his efforts to organize the village for oil drilling work. Kolya' son Alexei eventually falls for Taya, another beautiful Solomin woman, but The Great Patriotic War separates them.
This film was a critical hit at Cannes. The main theme by Eduard Artemyev would later on be remixed by PPK into the song "Resurrection."
---
Tropes:
---