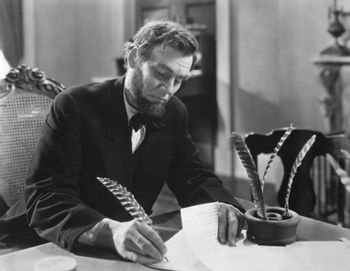 Abraham Lincoln is a 1930 biopic directed by D. W. Griffith and starring Walter Huston, based on the life of...well, you know.
The film is basically a Cliff's Notes version of Lincoln's life, starting out with his birth in 1809 and attempting to cram his whole life story into 94 minutes. Highlights include Lincoln's doomed romance with Ann Rutledge, his courtship and marriage with a rather self-involved Mary Todd, and Lincoln's determination to save the Union. There's also a bit of unpleasantness at Ford's Theatre.
Abraham Lincoln, Griffith's first talkie, got good reviews but didn't do very well at the box office, becoming yet another in Griffith's decade-long string of flops. Griffith directed only one more film before his career came to an end. It was one of Walter Huston's first starring roles; Huston would go on to a very successful career as a leading man. Huston's own rather reedy voice is a pretty good fit for Lincoln, and recalls the voice Daniel Day-Lewis adopted when he played the 16th President in Lincoln over eight decades later.
---
Tropes:
---