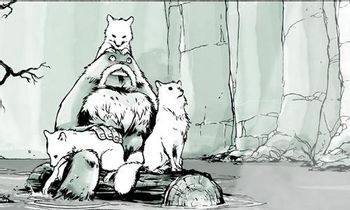 The Abominable Charles Christopher
is an ongoing, Eisner award winning, webcomic series starring an Abominable Snowman, supported by a surprisingly rich cast of animal characters. The comic's world is rendered in a realistic style, along with all the personal styling that adds emotion to the characters who populate it. The main story arc following Charles' journey to an unclear destination occasionally shifts to soft, comedic glimpses of forest life.
---
The Abominable Charles Christopher contains examples of:
Dissimile:

Rabbit: You know, I've always wondered,

how do you tell the difference between a newt and a salamander?

Newt:

The differences are pretty subtle. We newts tend to have rougher skin and spend most of our adult lives in water, while salama-

Salamander: I am the eater of starlight. I begin with the spark and end in ash. I, dear rabbit, am fire embodied.
Jigsaw Puzzle Plot: There definitely is a major plot (and a couple of intriguing sub-plots) in motion, but the precise details remain hard to pin down due to the extremely enigmatic nature of some of the entities involved.
No Indoor Voice: The human King. As evidenced by his SQUARE speech bubbles.
---