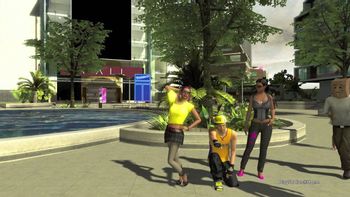 PlayStation Home was an online service accessible through the PlayStation 3. It was a social platform in which you controlled a Digital Avatar and could interact with other people and places. The world was divided into several spaces, each with a different theme, based on genres, what you can do there, or which company was sponsoring it. There was a fair amount of customization to be had, from changing your avatar's clothes, to decorating your personal spaces.
It started as a largely social platform with some advertising and light games. However, the games got more focus over time, and some pretty deep ones emerged as a result. It ran from its start in 2008 to its shutdown on March 31st, 2015
. The final day was recorded by Giant Bomb
.
---
PlayStation Home provides examples of:
---