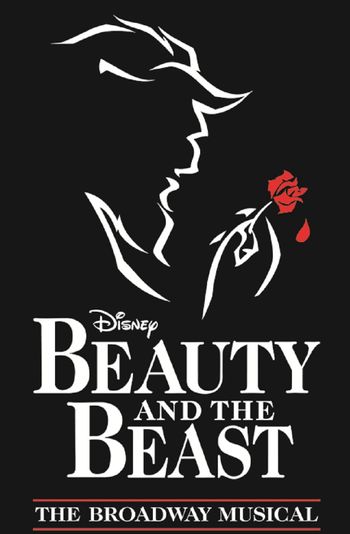 "No passion could reach me,
No lesson could teach me.
How I could have love her and made her love me too?
If I can't love her, then who?"
— Beast, "If I Can't Love Her"
Beauty and the Beast is a 1994 Screen-to-Stage Adaptation of the 1991 Disney film, notable for being the first show produced by Disney Theatrical Productions. The songs from the film written by Alan Menken and Howard Ashman remain, but with the addition of new songs with lyrics written by Menken and Tim Rice.
The show is significant to the history of both Broadway theatre and New York City. By the late 1980's Broadway, specifically Times Square, had a reputation for being a seedy and degenerate place, populated with bars, abandoned buildings and adult theaters. Disney had desire to attract families to the city, and thought that Broadway shows based on their hit musicals would be a winning deal. However, Disney insisted that New York City should clean the area up, and they then collaborated on a multi-million dollar restoration project that saw historic sites rejuvenated and the less savory businesses kicked out. Disney even bought the historic New Amsterdam Theatre to use as a venue for the show and give it a Broadway show for the first time in nearly 60 years.
The restoration took much longer than expected and debuted in 1997 with The Lion King instead, but Beauty and the Beast's debut at the Palace Theatre, combined with the area-wide rehabilitation efforts, gave dozens of companies the confidence to build locations and destinations in Times Square. Today, New York City and Times Square are seen as premier destinations for families, something the Disney's efforts to launch this show can thank. It was also the Screen-to-Stage Adaptation that caused the explosion of such adaptations to exist on Broadway today, plenty coming from Disney themselves.
The show's plot remains mostly the same from the film, with the young woman Belle finding out her father Maurice has stumbled upon a mansion of a nasty beast who wants to keep him as a prisoner. Belle offers to take his place to save her father, and she discovers a magical palace filled with enchanted objects who were once human. A new addition to this version is how the objects are slowly transforming to these objects rather than fully being them, with the last rose petal potentially causing them to lose sentience and become inanimate forever.
The show's initial run on Broadway ended after 13 years in 2007, making it one of the longest-running shows in the process. The show remains very popular with local productions, which can be chalked to the story's appeal with children and adults, familiarity with the source material and potential for race and gender-blind casting.
---
The stage adaptation contains examples of:
---