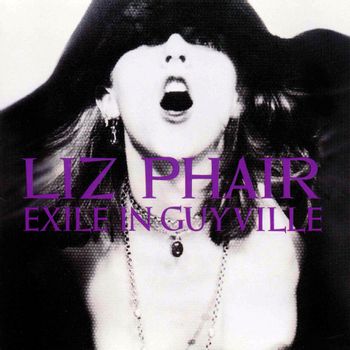 Exile in Guyville is the debut studio album by Liz Phair, released in 1993. It was a surprising critical success, and it garnered the singer-songwriter mainstream attention.
The album cover features Liz topless in a photo booth. Its lyrical themes mainly revolve around the sexual and intellectual independence of women, a direct contrast to the frequently sexist attitudes Liz faced while growing up. It's also a Concept Album of sorts, where each song is supposed to be an Answer Song to The Rolling Stones' Exile on Main St. (Liz has acknowledged that not all of the parallels may make sense to other people, but has said she was consciously thinking of the Stones album when writing the songs and constructing the album; she's also given interviews such as this one
in which she's elaborated more on some of the parallels.)
Compositionally, Liz's voice is intentionally overshadowed by the surrounding music, giving a more full and production-heavy sound. It wasn't a huge commercial success, but remains a widely influential album since it helped shatter the Double Standard against women singing sexual songs.
---
Tracklist:
"6′1″" (3:05)
"Help Me Mary" (2:16)
"Glory" (1:29)
"Dance of the Seven Veils" (2:29)
"Never Said" (3:16)
"Soap Star Joe" (2:44)
"Explain It to Me" (3:11)
"Canary" (3:19)
"Mesmerizing" (3:55)
"Fuck and Run" (3:07)
"Girls! Girls! Girls!" (2:20)
"Divorce Song" (3:20)
"Shatter" (5:28)
"Flower" (2:03)
"Johnny Sunshine" (3:27)
"Gunshy" (3:15)
"Stratford-On-Guy" (2:59)
"Strange Loop" (3:57)
---
"Exile in Tropeville":
---