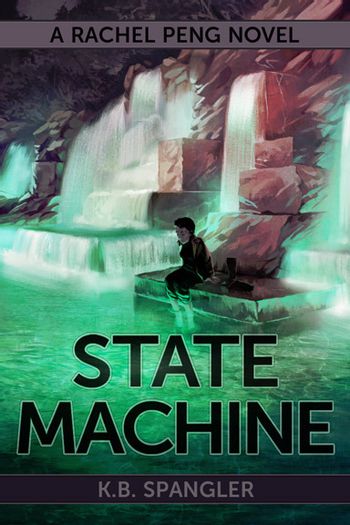 The Rachel Peng novels take place in the A Girl and Her Fed universe, focusing on Agent Rachel Peng. Rachel is assigned as the liason between the Washington, DC police department and OACET—a government agency consisting of three hundred and fifty cyborgs, Rachel included, the leftovers from a secret (and abusive) research project. The implant allows Agents to perceive the electromagnetic spectrum, as well as control of virtually any computer system in the world. Her specialty is perception, using the implant to detect a wide variety of electromagnetic radiation. Sometimes she uses this to solve crimes... but usually she and her long-suffering partner Santino just get handed the annoying jobs no one else wants to do.
While she initially faces a lot of prejudice from her fellow police officers, over time they gradually come to appreciate the usefulness of her abilities, and maybe even could be considered her friends.
The books take place during the timeskip between the Fed revealing the existence of the Agents and the end of the Senate hearings five years later. Many characters from the webcomic appear, most prominently Josh Glassman, Mako Hill, and both the Girl and the Fed, but the novels focus almost entirely on the sci-fi aspects of the universe, with no mention of the ghosts, the psychics, or the talking koala.
The series currently includes:
Additionally, between State Machine and Brute Force is another novel set in the same universe, and continuing State Machine's story about the Antikythera Mechanism, this time with Hope Blackwell: Greek Key
---
Contains these tropes:
---