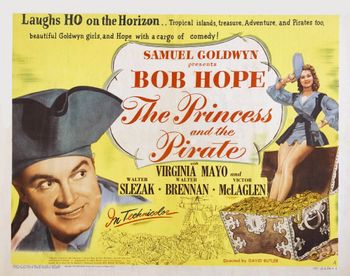 The Princess and the Pirate is a 1944 farce comedy directed by David Butler and starring Bob Hope.
The Princess Margaret (played by the absurdly gorgeous Virginia Mayo) is on a ship bound for America, traveling incognito. She is fleeing from her father the King, who is forcing her into an Arranged Marriage instead of letting her marry the commoner she loves. Also on board is Sylvester the Great (Hope), a bumbling Large Ham actor. The ship is raided by pirates, and both Margaret and Sylvester are captured, but they escape with the help of Featherhead (Walter Brennan), the ship's Butt-Monkey, who also provides them with a map to the treasure that Featherhead wants to steal.
One of Hope's best starring vehicles.
---
This film contains examples of:
---