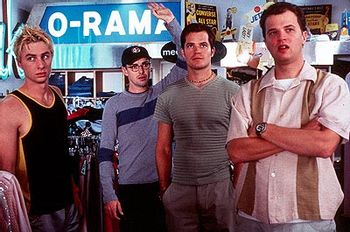 "There isn't a movie in the cinema canon that depicts a gay character that we would aspire to be. What are our options... noble, suffering AIDS victims, the friends of noble suffering AIDS victims, sex addicts, common street hustlers and the newest addition to the lot, stylish confidantes to lovelorn women. Just once I would like to see someone who is not sick, hasn't been laid in about three months and is behind on his student loans."
— Howie
Congratulations, Howie. You're in one.
A 2000 film revolving around the lives of a group of gay friends in Hollywood. Despite the subtitle, the movie is more of a Dramedy than romantic comedy. The intersecting plot lines revolve around:
They are all tied together by their mentor and father figure, Jack (John Mahoney), who owns the restaurant most of them work at and provides them with advice and a shoulder to cry on.
---
This film provides examples of:
---