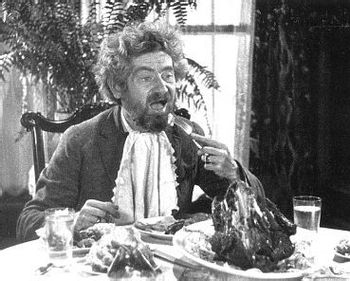 Pass the Gravy is a 1928 silent comedy short starring Max Davidson, directed by Fred Guiol.
Schultz is a suburban dad who raises chickens and is inordinately fond of one in particular, a prize-winning rooster named Brigham. His unnamed neighbor, played by Davidson, often gets annoyed when the chickens wander onto his property and eat the seeds in his vegetable garden.
Peace must be made, however, because Schultz's son and Davidson's daughter are engaged to be married. Davidson sends his dimwitted son Ignatz out to buy a chicken for a bury-the-hatchet dinner. Unfortunately for all concerned Ignatz decides to pocket the two dollars and chop the head of a chicken he finds wandering in his backyard—who happens to be Brigham.
There was quite a bit of talent behind the production of this film. It was produced by Hal Roach, famous for his Laurel and Hardy and Our Gang comedies; future Academy Award-winning director Leo McCarey is credited as the production supervisor; and another future Academy Award-winning director, George Stevens, was the cinematographer.
---
Tropes:
---