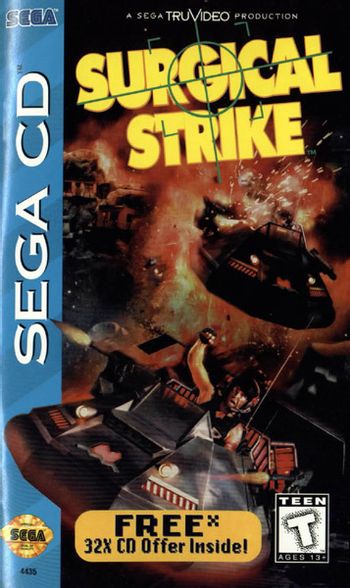 DJB:
I think we've seen more explosions thus far than Michael Bay has ever produced in his career.
...
slowbeef: I'm not even interested in the explosions, or how many there are. I'm interested in the explosion rate, like, how many per second.
Surgical Strike is a 1995 video game made by The Code Monkeys* better known for The Simpsons Skateboarding, the console ports of Turrican, and their ports of Dingo Pictures' movies on the PlayStation 2 and Stargate Studios for the Sega CD, with an Enhanced Remake released for the Sega 32X in the same year. It is a Rail Shooter with Full Motion Video, some rudimentary navigation elements, and lots of Stuff Blowing Up.
You play as a member of a special strike team tasked with taking down an evil terrorist named Kabul who wants to blow up loads of innocent people with hidden exploding missiles. You are armed with an enhanced hovercraft capable of speeding through Kabul's fortified bases and taking out his army with heavy weaponry that can blow them up before they blow you up.
---
This game has examples of:
Show Some Leg: Early on in the first level, a female belly dancer randomly appears in a doorway for a few seconds before a guerrilla comes to shoot you.
Stuff Blowing Up: You will rarely go more than 4 seconds without something exploding onscreen.
---