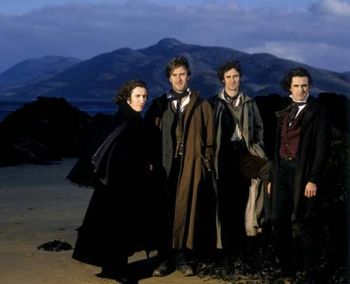 A 1995 mini-series coproduced by the BBC and RTÉ based on an idea the McGann Brothers had, while they were researching their Irish heritage. The title comes from an old Irish phrase "hanging gale" — a landlord would allow his tenants a six month grace period to pay rent, after the crops were sold.
Paul McGann and his brothers Stephen, Mark, and Joe star as the Phelan Brothers - Connor (Mark) and Sean (Joe), two tenant farmers, Danny (Stephen) a schoolmaster, and Liam (Paul) a Catholic priest who live on the estate of an English nobleman in County Donegal, Ireland during the Potato Famine of 1846 - a time when no family on the estate can grow enough food to pay rent and feed themselves. The land agent Captain Towsend (Michael Kitchen) is somewhat sympathetic to the farmers plight, but he resolves to follow his employer's harsh instructions regardless. Faced with starvation and eviction one brother decides to take matters into his own hands with disastrous consequences.
The mini-series is notable for being one of the few major pieces of film or TV that center around the Irish Potato Famine.
Tropes associated with this series include:
---