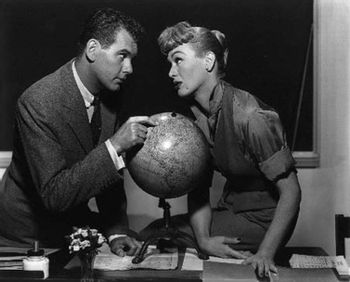 Our Miss Brooks was a popular early sitcom starring Eve Arden, which ran on CBS radio (1948-57) and television (1952-56). The series concluded with a movie adaptation in 1956.
Arden plays Connie Brooks, a benevolent, wisecracking English teacher at Madison High School who deals with her surrounding cast of characters including her overbearing principal Osgood Conklin (Gale Gordon), her cheerful but not-so-studious pupil Walter Denton (Richard Crenna), her occasionally-scatterbrained landlady Mrs. Davis (Jane Morgan), and her desired love interest, biology teacher Philip Boynton (originally Jeff Chandler, later Robert Rockwell).
As of September, 2016, Our Miss Brooks returned to syndication, being shown weekday mornings on METV.
---
Our Miss Brooks provides examples of:
Conklin's name on the ten-year-old envelope . . .
Hilarity Ensues
.
At the end of the movie, Mr. Boynton and Miss Brooks marry and live Happily Ever After.
---