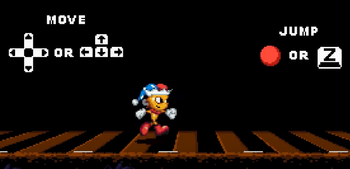 "Oh, Iím too lazy to read the manual! I need help! Wah! Wah!"
At least as far back as the first Final Fantasy on the NES, developers have reckoned that players might actually not read the manual for all the controls and general know-how of playing the game. As games grew more complicated, it also appeared that some actions were simply really hard to get across with just words, at least without a 12-page essay on the single function. By the seventh generation of gaming and the rise of digital distribution, few games even came with manuals at all, meaning that the game itself is the only place to learn how to play it.
Thusly, in-game tutorials have been in games with increasing regularity, to the point where it's more likely that games have at least one sort of tutorial than none at all.
The basic formula is thus: A game mechanic or element is brought to the players attention, and the player is informed about it, possibly with a demonstration of some sort.
Of course, it's not always that simple. Tutorials themselves have Tropes of their own, each adding another layer of complexity and making game manuals even more redundant here.
They come in many flavors: <!—index—>
<!—/index—>
---