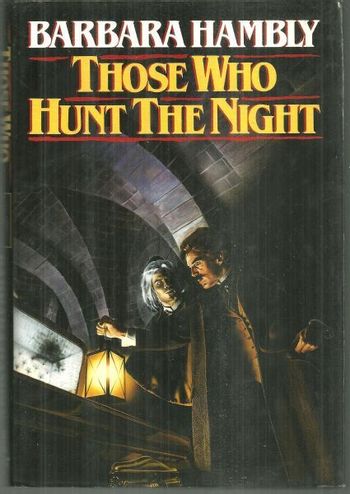 "My name is Don Simon Xavier Christian Morado de la Cadena-Ysidro, and I am what you call a vampire."
Those Who Hunt the Night (1988, also published as Immortal Blood) is a Historical Fantasy novel by Barbara Hambly. Professor James Asher, Oxford linguist and retired spy, is unwillingly recruited by the vampires of London to track down a hunter who is killing them one by one. He sets to work, with the assistance of his wife Lydia, a physician, and Don Simon Ysidro, a former Spanish nobleman who has been unliving in London since the days of Elizabeth I.
Has several sequels: Traveling with the Dead (1995), Blood Maidens (2011), Magistrates of Hell (2013), Kindred of the Dead (2014),Darkness on His Bones (2015), Pale Guardian (2016), and Prisoner of Midnight (2019).
This series provides examples of:
---