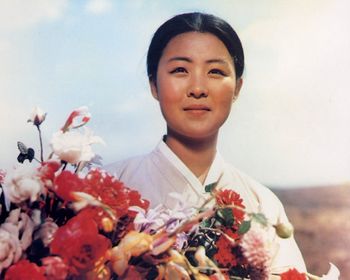 The Flower Girl (꽃파는 처녀) is a 1972 film from North Korea.
The film is set in the 1930s during the Japanese occupation of Korea. The plot follows the story of Kotpun (Hong Yong-hee) a young woman who sells flowers in the streets of her village. Her mother, a widow, is effectively a slave, trapped into unending service to the evil Pae family. Mr. and Mrs. Pae are the local landowners, who exploit and oppress the villagers, and who are collaborators with the Japanese. If that's not a sad enough life for Kotpun, her mother is dying. And if that's not sad enough, her brother Chol-ryong has been rotting in a Japanese prison camp for years. And if that isn't sad enough, her little sister, Sun Hui, is blind.
The Flower Girl was based on an opera supposedly written by Kim Il-sung. That probably isn't true, but it is known that his son, cinephile Kim Jong-il, began his involvement in the North Korean film industry by producing this movie. It might be the best film ever made in North Korea, although that is likely an Overly Narrow Superlative given the limitations of cinema in a dirt-poor Stalinist dictatorship. It was iconic enough that a picture of Hong Yong-hee as Kotpun used to be on the North Korean one-won note
◊.
---
Tropes:
---