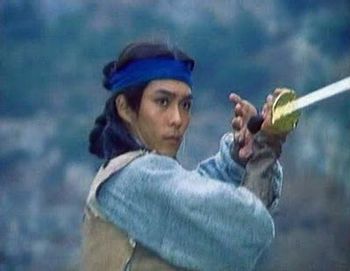 Hong Kil Dong is a 1986 martial arts film from North Korea. (Yep.)
The story is based on a Korean novel
written sometime in the late 16th or early 17th centuries. Hong Kil Dong is the son of Hong, the local lord, and his concubine. Lord Hong accepts Kil Dong as his son, and Lord Hong's legitimate son loves his brother, but Lord Hong's wife hates the hell out of both Kil Dong and his mother. Lord Hong's wife contrives to have young Kil Dong and his mother sent away, and then arranges for them to be waylaid by bandits while they are in transit. Kil Dong and his mother are saved by the fortuitous arrival of a local warrior monk, who fights off the bandits.
Hong Kil Dong and his mother spend years living with the old monk, who takes Kil Dong under his wing and teaches him how to be a warrior and martial arts expert. One day a grown-up Kil Dong encounters the same bandits, defeats them, and liberates their prisoner, the lovely Rim Yon Hwa. Yon Hwa's father is another lord in service of the king, so Kil Dong goes back home to claim her in marriage—but Lord Rim won't consent because Kil Dong is the son of a concubine.
Kil Dong's stepmother is still around, and she still wants him dead. And then the murderous Japanese ninjas show up.
Hong Kil Dong is the first North Korean martial arts movie. It is also unusual for its relative lack and hidden criticism of Communist/regime propaganda and policies (specifically the songbun policy), although the propaganda message is still there, and the Japanese are the bad guys as usual.
Compare Hong Gil Dong, a South Korean drama series that unsurprisingly has a very different take on the same source material.
---
Tropes:
---