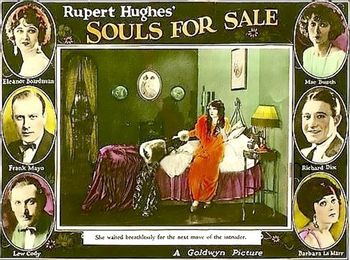 Souls for Sale is a 1923 film written and directed by Rupert Hughes. Eleanor Boardman stars as Remember "Mem" Steddon, a small-town girl who has just married Owen Scudder (Lew Cody) after a whirlwind courtship. However, while they are on the train headed for Los Angeles for their honeymoon, Mem suddenly has second thoughts about her mysterious new husband. She jumps off the train when it stops for water. Mem finds herself in desperate straits in the middle of the Mojave Desert, until she spies some wagon tracks and follows them to—a movie production that is filming an Arab sheik movie.
Eventually Mem gets hired in Hollywood and her fame grows. Two different actors in Mem's company fall in love with her. Meanwhile, it turns out she was right to trust her instincts about Scudder: he is a Serial Killer who marries women, takes out insurance policies on them, and then murders them. Scudder is caught by the cops but escapes. While on the lam in Egypt, he sees one of Mem's movies, and decides to find her in Los Angeles.
Souls for Sale combines an intentionally goofy, melodramatic plot with a backstage portrait of Hollywood moviemaking circa 1923. Roger Ebert put it on his Great Movies List.
---
Tropes: