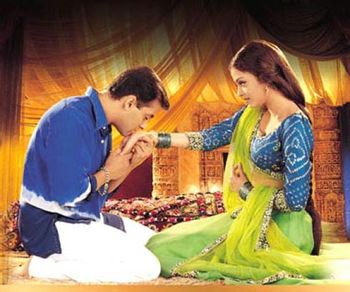 "In the First Step, we will promise to share all your happiness and sorrows. In the Second Step, you will promise to protect, love and cherish me. In the Fourth Step, I will take your permission to go ahead so that when Death comes, I will embrace it over you."
— Nandini to Sameer on the 7 steps in a Marriage.
"He has touched my soul. His eyes follow me forever I go. Oh Mother, I'll die if he leaves. I can't live without him"
— Nandini
Hum Dil De Chuke Sanam (I Have Given Away My Heart) is a Film of the Book Na Hanyate starring Aishwarya Rai, Salman Khan and Ajay Devg and directed by Sanjay Leela Bhansali, of Devdas and Saawariya fame.
It stars a happy-go-lucky Nandini who lives within a fort in Rajasthan with her extended family and is visited by Sameer, a Half Italian, Half Indian singer who knocks on her Father's door to learn classical Indian music. They fall madly, obsessively in love, unknown to both Nandini's renowed father and mother. Both Sameer and Nandini aid Nandini's cousin to escape her abusive marriage to be with her true love against the wishes of their elders and are caught flatfooted in an embrace by Nandini's father.
After their love is discovered, Sameer is banished from the mansion with a stipulation from her father that he never meet Nandini again as a Guru Dakshina (a traditional gift a student gives a Guru). Sameer leaves, bound by his vow and the heartbroken Nandini is married off to Vanraj, a son of a famous lawyer, who unknown to her has fallen in love with her. She resumes letter writing to Sameer, and Vanraj stumbles upon Sameer's letters. Vanraj, who is neither handsome nor a good singer but is possessed only of a good heart, decides that the one honorable thing to do is to leave Nandini off to her lover Sameer in Italy and sets off with her to Europe. And so goes the Love Triangle.
---
This work provides examples of:
---