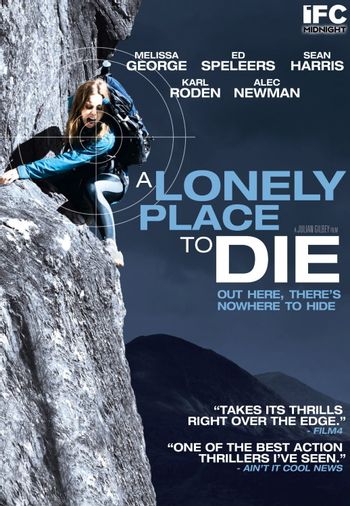 Mr. Kidd: That's the price of your nobility. Hurts, doesn't it?
A Lonely Place to Die (2011) is an action-adventure/thriller film directed by Julian Gilbey.
The plot entails a group of climbers finding a kidnapped girl buried underground, with a pipe extending to the surface to give the girl air to breathe. As the group attempts to bring the child to safety, the kidnappers literally hunt the group down one by one. It's a bit more complex than this, however.
Proving to be both critically and commercially successful, the film features Melissa George, Ed Speleers, Kate Magowan, Alec Newman, and Garry Sweeney as our doomed protagonists, Sean Harris and Stephen Cole as the kidnappers, Holly Boyd as the girl, and Karel Roden, Eamonn Walker, and Paul Anderson as associates of the girl's father attempting to negotiate her rescue.
---
This film provides examples of: