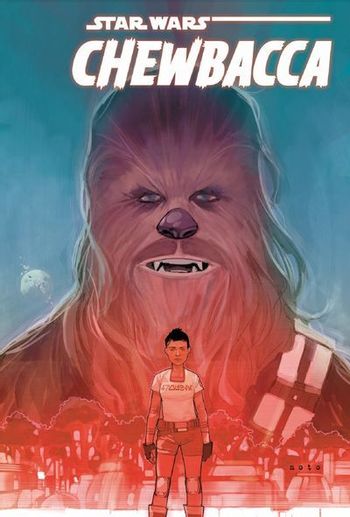 Chewbacca is a story starring everyone's favorite Wookiee, (naturally), as written by Gerry Duggan and illustrated by Phil Noto, who had previously drawn covers for other Star Wars Expanded Universe comics and would later illustrate Poe Dameron.
Chewbacca finds himself stranded on Andelm IV while on a mission for the Rebellion, and ends up helping an escaped slave named Zarro rescue her father from imprisonment by an alien slave master, Jaum, has bought off everyone on the planet as no one can pay his debts, in part thanks to the deflation of credits by the destruction of the Death Star.
Not to be mistaken with the 2001 Chewbacca comic series, which revolves around his history as characters look back after his death. Don't worry; it's just Legends.
The first issue was released on October 15, 2015, and concluded on December 30, 2015.
In 2018, the comic was adapted as a young reader's book, Chewie and the Courageous Kid, as a part of the Solo multimedia project.
---
"HRRRAAAAHHH!!!"