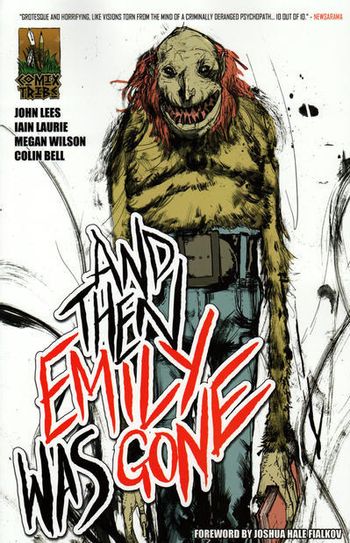 The Devil hides in corners. Evil festers in the right kind of frame, or door. The right kind of box.
And Then Emily Was Gone is a 2014 horror comic book written by John Lees, with art by Iain Laurie and colors by Megan Wilson. It's been praised as "disturbing and unsettling," "a surreal, waking nightmare," and "a spiral downwards into madness..."
One night, after disgraced former detective Greg Hellinger fails to get a single night of sleep away from the disturbing monsters he sees everywhere, he gets a knock on his door from a young girl named Fiona. Fiona has come to find Hellinger because he was known for finding missing people — and Fiona's best friend Emily has gone missing.
Fiona and Emily are from Merksay, one of the Orkney islands. One day, Emily told Fiona that "Bonnie Shaw" was coming for her. Bonnie Shaw, however, is just a local legend, a bogeyman who makes deals with parents in exchange for their children. He isn't real...or is he?
Hellinger initially doesn't want to take the case, but Fiona convinces him, so together they travel back to Merksay...and all the mysteries and horrors it contains.
---
And Then Emily Was Gone contains the following tropes:
---