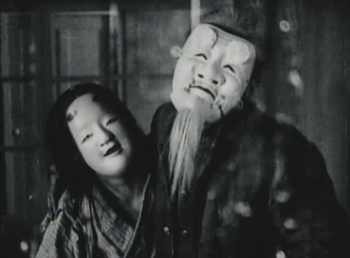 A Page of Madness (狂った一頁, Kurutta Ippēji or Kurutta Ichipeiji) is a 1926 Japanese silent film directed by Teinosuke Kinugasa (Gate of Hell).
The setting is a mental hospital. A custodian at the mental hospital is eventually revealed to be both a former naval officer and husband to one of the inmates. Flashbacks and montages indicate that the custodian's wife is in the asylum because she either attempted to drown their baby in a lake or actually did drown their baby in a lake. The custodian seems to have taken a job at the mental hospital in order to be closer to his wife, who spends most of her time locked in a padded cell. Two younger visitors to the asylum appear to be their grown daughter and teenaged son; the daughter is engaged to be married, and the boy may or may not be the child that the mother attempted to drown. Other patients at the asylum include a bearded man who tries to assault the daughter during her visit, and a woman who seems to have been a dancer, and continues to dance non-stop in her cell, even when her feet are bleeding.
At least, that's a pretty good guess at what's happening; between Mind Screw and Through the Eyes of Madness, it's hard to tell.
A Page of Madness is a very rare example of a surviving Japanese silent film. Various factors, including the fires from a 1923 earthquake, the fires from American bombs, and the lack of foreign distribution of Japanese silent films, combined to result in the loss of nearly all of Japan's early cinema history. A Page of Madness was thought to be lost for many years, until director Kinugasa found a complete negative stored in a rice barrel at his house in 1971.
---
Tropes:
---