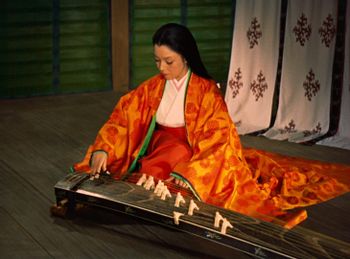 Gate of Hell (Jigokumon, 地獄門) is a 1953 Japanese film, starring Kazuo Hasegawa and Machiko Kyo, and directed by Teinosuke Kinugasa (A Page of Madness).
The film is set during the Heiji Rebellion of 1160. Morito (Hasegawa) is a samurai who remains loyal to the emperor during the uprising. When the rebel forces attack the royal palace, Lady Kesa (Kyō), a lady-in-waiting at the royal court, is designated to be a decoy for the Queen. Morito is charged with taking her away from the castle in order to lure the rebels away from the real Queen's escape.
Morito takes Kesa to his home, where he runs into his own brother, who has joined the rebellion. Morito refuses his brother's invitation to join the rebels and goes back to the palace, while Kesa escapes. The rebellion is put down. Morito's lord offers him a reward for his loyalty, and Morito asks for Kesa's hand in marriage. The lord is ready to give her to him, until a courtier tells them that Kesa is already married to Watanabe, another samurai. This does not dissuade Morito.
Gate of Hell won an honorary Academy Award for best foreign-language film.
---
Tropes:
---