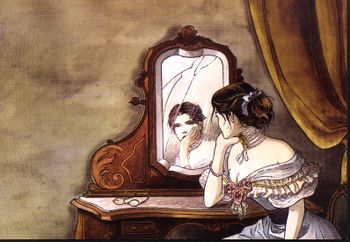 Le temps irrevocable a fui. L'heure s'achève... Mais toi, quand tu reviens et traverses mon rêve, tes bras sont plus frais que le jour qui se lève, tes yeux plus clairs... A travers le passé, ma mémoire t'embrasse...
Sasmira is a French-Belgian comic book series by Laurent Vicomte. The first tome was published in 1997, and it took the author until 2011 to finish the second one.
Stan is a young Parisian orchestra conductor. One day, in front of his door, he finds an old woman who tells him a mysterious sentence and gives him a beetle-shaped gold ring before dying. He becomes obsessed with finding out who she is, and traces her back to a now-abandoned mansion in the French countryside.
His girlfriend, Bertille, concerned that his single-minded quest is jeopardizing their relationship, decides to help him in order for him to move on eventually. They both go to the mansion, where Bertille puts on a period dress she found. In a room, they see a woman in a strange metallic sarcophagus, apparently in a state of suspended animation. While a storm rages outside, they find refuge in a cellar, and black out after having sex.
When they regain consciousness, they are in a bed. They are still in the mansion, but have somehow ended up in the year 1908...
---
Contains examples of:
---