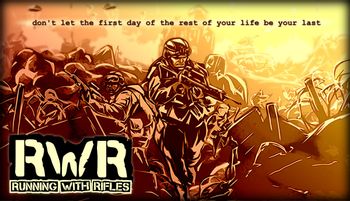 Running With Rifles
, or, to use the proper title,
RUNNING WITH RIFLES
is a top down isometric shooter that takes a point of view similar to that of Operation: Flashpoint.
The year is whenever, the place is wherever, and three expy armies are duking it out; the German Greycollars, the Russian Brownpants, and the American Greenbelts. Fighting over a small country, these armies, in their hundreds of thousands, wage a brutal war for no clear reason and for no discernible purpose. And into this steps you, fresh from basic, with a gun, a first aid kit, a grenade, and instructions to carry out all orders.
Unlike some military shooters, you are a nobody, a random soldier with a combat life expectancy of thirty seconds who is simply sent to a war zone with minimal equipment and instructions to head to a rally point and muster for an assault on an enemy strong point.
In October 2017 a new campaign taking place in the Pacific theater during World War II was released, with players able to play as either US Marines or IJA soldiers.
---
This game contains examples of: