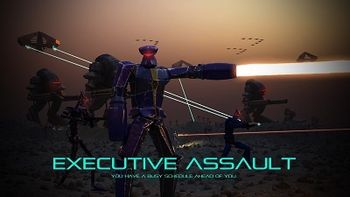 A number of CEOs from different corporations are put in charge of taking over a planet, with the aid of simple infrastructure-building tools, and ease of access to an army of autonomous vehicles and robots. The question is, who will come out on top?
Executive Assault is an RTS/FPS hybrid, developed with the Unity engine by one-man developer Hesketh Studios, and released on Steam in July 2015. The idea is that the bulk of the game is spent as a standard RTS, albeit with the ability to control individual units in a first person view, as well as the added pressure of having to build the infrastructure of your base in such a way to deter enemy intruders, lest they manage to make it to your office and put a stop to you. This is because you yourself are a unit, and can be controlled in first person view yourself.
A sequel focused on space combat, Executive Assault 2, was released in October 2018.
---
Executive Assault contains examples of:
---