Film watched: The Trollenberg Terror aka The Crawling Eye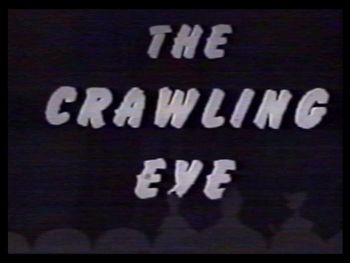 Servo:
This must be a
Paramount
picture.
—The first riff in the theater.
The national debut episode of Mystery Science Theater 3000 on the Comedy Channel, later Comedy Central. The featured movie can also be seen on Mike's television at the very end of the final episode, creating Bookends for the series (at least the original run).
It is available on the MST3K YouTube page here
and on Shout! Factory TV here
.
The Segments:
Segment 1/Invention Exchange
Dr. Forrester and Dr. Erhardt move into Deep 13. Joel presents his electric bagpipes. Dr. Forrester injects Dr. Erhardt with dog antiperspirant.
Segment 2
Joel explains to Servo and Crow why it's a big deal for humans to lose their heads.
Segment 3
Segment 4
Forrest Tucker is freaking the Bots out.
Segment 5
Joel offers RAM chips to the Bots for saying one good thing and one bad thing about the movie.
This MST3K presentation contains examples of: