"Hadronites, assemble!"
— Cyrus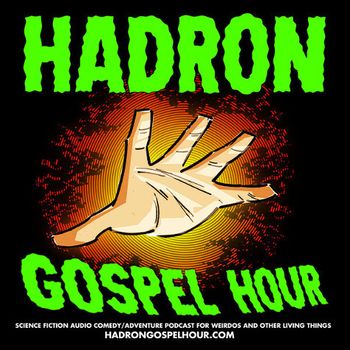 Hadron Gospel Hour is a 2013 science fiction comedy podcast about the hapless duo composed of Hadron scientist Dr. Francis "Oppenheimer" Valdini and his somewhat reluctant partner, the kidnapped IT guy Mike Wilkinson who become stranded outside of spacetime in the Hadron Bunker. Alongside, the sassy laboratory A.I. "A.S.H.LE", a goofy, partially disembodied maintenance man Cyrus, and a floating, sentient Higgs-Boson particle Higgs_B, the two struggle ineptly to repair the infamous Hadron Rift. To save the multiverse, Oppenheimr and Mike must visit freaky new alternate timelines, making wacky new friends-and ridiculous new enemies-along the way.
The podcast is updated once every few months and the winner of a few awards such as the Parsac Best Speculative Fiction award. Episode can be listened to here.
---
It's time for tropes from the Hadron Rift!
Nice Guy: Higgs_B falls into this category more than anyone else. He's always in good spirits, loyal even to complete strangers, and doesn't seem to have a single malicious proton in his cube.
Only Sane Man: Mike is normally the more sensible one out of the group and seemed to live an average life before being dragged into the bunker.
Red Oni, Blue Oni: Mike and Oppenheimer have this as one of their central differences. Oppenheimer is the hyper intelligent and dramatic one to Mike's practical and more snarky personality.
---
"Oh, you've reached the end of the trope page? This pleases me."
---