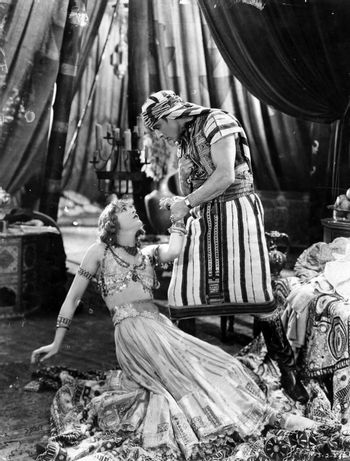 The Son of the Sheik is a 1926 film directed by George Fitzmaurice, starring Rudolph Valentino and Vilma Banky.
It is a sequel to one of Valentino's most popular films, The Sheik. In this one the protagonist is Ahmed, son of the Sheik from the original film. Like his father, this Ahmed falls in love with a beautiful white woman. But unlike the first film, this Love Interest, Yasmin, is not a spoiled socialite, but instead a young dancer in a traveling vaudeville troupe. The vaudeville troupe has a second and more profitable sideline in banditry. They follow Yasmin to a rendezvous with Ahmed, kidnap Ahmed, and hold him for ransom. Ahmed is rescued, but not before bandit chief Ghabah lies to him and tells him that Yasmin set him up. An embittered Ahmed swears revenge against both Yasmin and her bandit clan.
Valentino made The Son of the Sheik under protest. He didn't like the "sheik" persona and wanted to try different things, but a prolonged box office slump and major personal debts led him to revisit his biggest hit. Early reaction to The Son of the Sheik was favorable, and Valentino embarked on a tour in order to promote the film. While on tour, he collapsed in his hotel room in New York. Eight days later, he was dead at the age of 31 of peritonitis and pleurisy caused by a punctured ulcer. The Son of the Sheik was his last film. Aided no doubt by the monster publicity caused by his death, it was a huge hit.
---
Tropes: