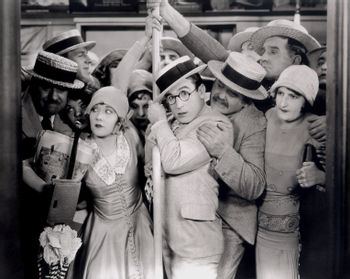 Speedy is a 1928 comedy film starring Harold Lloyd.
Lloyd plays Harold "Speedy" Swift, a young go-getter in New York City who loves his girlfriend Jane (Ann Christy) and the New York Yankees, possibly not in that order. Jane's grandpa, Pop Dillon (Bert Woodruff), owns the last horse-drawn passenger trolley in New York City. Pop has been targeted by unscrupulous streetcar developers, who are trying to push him out of business so they can gain control of his route. Harold has to fight to make sure Pop gets a fair deal.
Speedy director Ted Wilde was nominated for Best Comedy Direction at the first Academy Awards ceremony. The award was never given again. The End of an Age plot with Pop's horse-drawn car turned out to be appropriate on a meta level, as Speedy was the last silent film Harold Lloyd ever made.
---
Tropes:
---