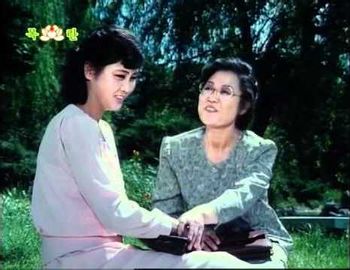 O Youth! is a 1994 film from North Korea. (Yes.) It is a rare example of a romantic comedy from a nation whose films usually consist of strident propaganda.
Mr. Pak is father to five daughters, all of whom are accomplished athletes—a baskeball player, a swimmer, a weightlifter, a gymnast, and a soccer player. The main concern of the family is finding a bride for the only son in the Pak family, Ki Ho. Despite the fact that she's a mother to five woman athletes, Mrs. Pak feels that an athlete would not be a proper match for her son, as athletic women are too competitive. So when all five daughters propose athletes of their acquaintance as wives for Ki Ho, Mrs. Pak rejects all five.
Ki Ho is a bookish scholar preparing a thesis on the history of North Korean sport. He meets a lovely young lady, Un Gyong, in the library, when she checks out a book about the history of taekwondo that he was looking for. When he walks her to the embroidery center he assumes that she is an embroidery girl. Mrs. Pak for her part is delighted to hear that her son went for a walk with a young lady with a traditional feminine job like embroidery. What the Paks don't know is that Un Gyong is actually a trained taekwondoist, just the sort of girl that Mrs. Pak didn't want for her son.
---
Tropes:
---