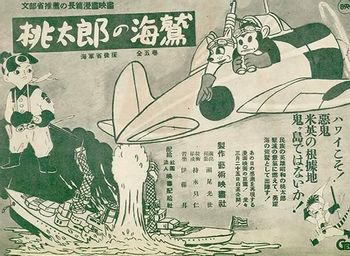 Momotaro's Sea Eagles (桃太郎の海鷲, Momotarō no Umiwashi) is a 37-minute Japanese anime film from 1943, written and directed by Mitsuyo Seo. It is probably the oldest Japanese anime film to survive.
It is loosely inspired by the famous Japanese myth of Momotarō, the "peach boy" who became a great hero by defeating the demons of Demon Island. Here, Momotaro is a commander in the Imperial Japanese Navy sending his pilots off to attack "Demon Island", which looks one heck of a lot like Oahu and Pearl Harbor. The film focuses on one particular cuddly puppy and cute little monkey, who together crew a torpedo plane that's part of the wave of Japanese aircraft sent to wreck the fleet at Demon Island.
And there's an American sailor who looks just like Bluto.
It is as odd as it sounds. It spawned a sequel, Momotaro's Divine Sea Warriors, a feature in which Momotaro trains cuddly animals to be paratroopers.
Along with its sequel, this anime is one of very few 40's-era Japanese animated films to have survived undamaged (in comparison to a veritable arsenal of WWII-era American war cartoons); many were lost or severely damaged during firebombing raids in the latter years of the war.
---
Tropes:
---