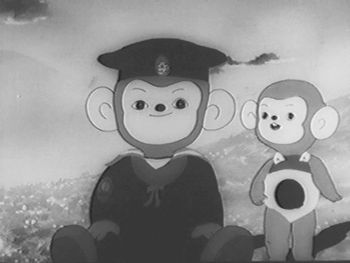 Momotaro's Divine Sea Warriors (桃太郎 海の神兵, Momotarō: Umi no Shinpei) is a 74-minute black-and-white 1945 animated film from Japan, written and directed by Mitsuyo Seo.
Four cute cuddly creatures—a monkey, a bear cub, a rabbit, and a pheasant—return home from naval aviation training to say goodbye to their familes. While there, the monkey's little brother falls into the river, and the gang have to save him before he plunges over the falls. The action then skips to a Pacific island where the Japanese forces (again cute cuddly animals, mostly rabbits) are building an air base. Momotaro, a little boy dressed as a general, arrives to take command, along with the monkey, bear cub, rabbit, and pheasant. The Japanese build their base while taking time to give the natives classes on how to write and speak Japanese. In the third section of the film, Momotaro and his squadron of cute cuddly Imperial Japanese Navy parachutists conduct an airborne invasion of another island that is held by British imperialists.
Momotaro's Divine Sea Warriors was the sequel to a 37-minute short film, Momotaro's Sea Eagles (1943). The character of Momotaro is taken from the famous Japanese folk tale "Momotarō", about a miraculous boy born from a peach who grows up to be a great warrior.
This film, being a propaganda piece produced in the final months of a war Japan was obviously losing, and aimed at children who had been evacuated from the cities to the countryside, didn't find much of an audience in 1945. For decades it was thought to be lost, possibly destroyed by the occupying Americans, until a negative print was found in 1983. It is believed to be the first feature-length anime film ever made.
An early World War 2 example of Kawaisa.
---
Tropes: