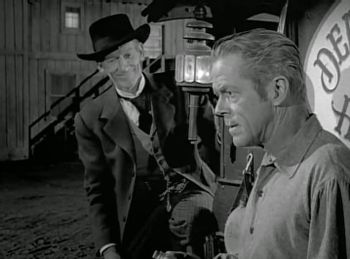 Rod Serling:
Portrait of a town drunk named Al Denton. This is a man who's begun his dying early—a long agonizing route through a maze of bottles. Al Denton, who would probably give an arm or a leg or a part of his soul to have another chance, to be able to rise up and shake the dirt from his body and the bad dreams that infest his consciousness. In the parlance of the times, this is a peddler, a rather fanciful-looking little man in a black frock coat. And this is the third principal character of our story. Its function? Perhaps to give Mister Al Denton his second chance.
Air date: Oct. 16, 1959
Al Denton (Dan Duryea) is the drunken laughingstock of the town, so desperate for beer that he even goes as far as singing drunken songs at the bequest of young bullies led by Dan Hotaling (Martin Landau). One day he finds a gun lying on the ground. The bullies take notice and try to goad him into a shoot-out, as Denton used to be hot stuff. Denton tries explaining that he doesn't have it anymore, but the gun goes off, shooting the bully's gun out of his hands. While this wins the town's respect and awe, Denton feels he's gotten himself in trouble.
Denton admits that his alcoholism was born of fending off an endless parade of challengers, trying to build their reps by taking him on, the last being a teenage boy. Denton knows that it's going to happen all over again, and is proven right when he receives a challenge from one Pete Grant (Doug McClure). Denton tries to practice, but all he learns is that his earlier feat was just a fluke. The night before the duel, Denton meets a peddler by the name of Henry J. Fate (Malcolm J. Atterbury), who goads him into buying an elixir that will make him an expert marksman for about 10 seconds. Denton buys it, but knows that he's just prolonged his end by about one duel.
At the saloon, Denton meets Grant, a young hopeful who thinks he's unbeatable. Denton sees that Grant has a bottle like the one he bought from Fate, and realizes that they've been set up. The two gunslingers shoot their guns out of each others' hands, causing minor damage that has ended their ability to pull a trigger. Denton tells his young rival that they've been given a chance for a better life, as now neither of them will be able to shoot a gun in anger. Before riding out of town, Fate tips his hat to Denton.
Rod Serling:
Mr. Henry Fate, dealer in utensils and pots and pans, linaments and potions. A fanciful little man in a black frock coat who can help a man climbing out of a pit—or another man from falling into one. Because, you see, Fate can work that way...in the Twilight Zone.
---
Mr. Denton on Tropesday:
---