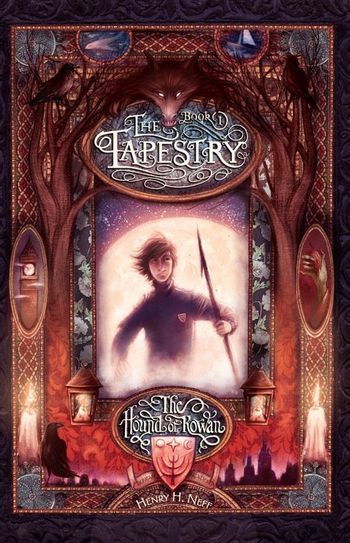 The hound reared up on its hind legs and placed paws the size of baseball mitts on Max's shoulders. It looked down at him, its breath a series of hot blasts. Growling, it pressed its forehead hard against his and spoke to him:
"What are you about? Answer quick, or I'll gobble you up!"
The Tapestry series is Henry H. Neff's first foray into the world of fiction, and follows the adventures (and misadventures) of a young Max McDaniels, who rather unexpectedly comes into his magical heritage and is brutally introduced to the magical world at large. Shortly afterward, he is invited to a school for similarly-gifted children—Rowan Academy, the last of its kind—and embarks upon a Coming of Age of mythic proportions.
Along the way he picks up new friends, including a steadfast (if inscrutable) young sorcerer, an ornery Familiar known as a charge, and a pair of reformed monsters/school chefs. The entrance ceremony, however, is clear: the students' talents don't come free. Anyone gifted with the spark is also likely to draw attention from the denizens of the magical world, most of whom aren't the friendliest customers. Their education is as much to keep them safe as to keep the magical traditions alive, and the threats only get bigger as the series progresses.
Neff weaves a world where All Myths Are True, the Wizarding School knows and acknowledges it's under seige from the get-go, and, surprisingly for Young Adult Literature of its type, the good guys actually take some rather serious losses. He pulls heavily from Celtic Mythology, which certainly help his works stand out from the more popular Classical Mythology at the time of their publishing, and adds a fair sprinkle of his own creatures, many of which spring from his imagination as a child.
The Tapesty series consists of:
The Hound of Rowan (2007)
The Second Siege (2008)
The Fiend and the Forge (2010)
The Maelstrom (2012)
The Red Winter (2014)
Following the series conclusion, Neff began work on a followup series with three planned installments, The Impyrium, set approximately a millennium later in the same setting and following the children of one of its notable characters.
---
This series provides examples of:
---