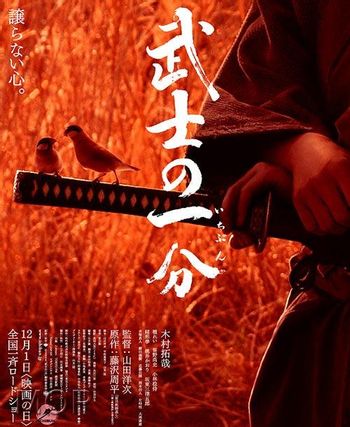 Love and Honor (Bushi no Ichibun, literally "Warrior's Honor"), released in 2006, is the third film in Yoji Yamada's acclaimed Samurai Trilogy. All three films are based on the short stories of Shuhei Fujisawa.
It's somewhere in Japan during the Edo period and samurai Shinnojo Mimura risks his life for his lord daily - as a food taster. He and four colleagues are each served a portion of their lord's meal; if they don't drop dead, the food is considered safe. While not glamorous or fulfilling, this job pays roof and meals for Shinnojo, his wife Kayo and their old servant Tokuhei who live together happily, if not by modern values.
Shinnojo considers quitting, but before he can do so, one rainy day a meal is indeed poisoned. He falls into a coma, and when he wakes up again, he is blind.
The movie shows the desperate measures Kayo goes to in trying to secure them a living, how Shinnojo comes to terms with being an invalid, and how he manages to keep both love and honor. It has been described as a domestic drama, and it is, while still including one seppuku and one duel, as any self-respecting samurai flick should.
---
This movie provides examples of:
---