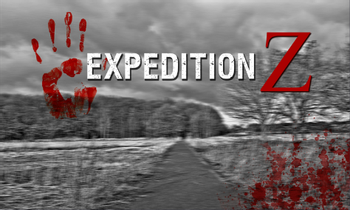 "The time to venture beyond the Westerly Wall has come. Two of your fellow graduates will be chosen to lead a new mission, today. They will be given a small garrison of Grey Berets. Their mission: to take an account of all disparate communities that may have survived the outbreak. And, of course, to gather a count of the remaining hordes. They will be a new Lewis and Clark."
— President Byers, announcing the titular expedition
Expedition Z
is a
Post Apocalyptic
horror story written by investigative reporter and novelist James Renner hosted in StoryShift. It follows the story of Adam Foster, a newly graduated cadet with his fellow graduate friend Dannie DeSimone on an expedition to the West to explore beyond the Westerly Wall, a barrier stretching along the East Coast separating their home from the rest of the U.S.
Expedition Z, like any other StoryShift-hosted story can be viewed here
and has decisions in the end of every chapter that people can vote on to influence the next chapter or the story's overall plot. You can view as a guest but cannot vote on decisions given by the author or create an account to vote.
Tropes present in this work:
---