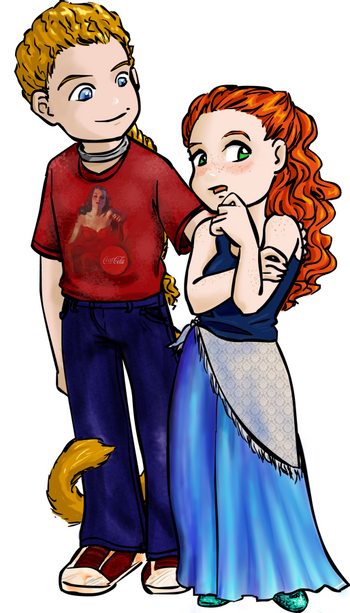 Shahin, cold and cynical, thinks she's being sent to the Addergoole School because her mother can no longer deal with her freakish ways.
Kailani, brilliant and naïve, thinks she's being sent to a college prep school for exceptional teenagers.
Jamian, who seems so normal, is just worried that in the close quarters of the underground boarding school, his secret will come out.
In a way, they're all right, but the truth of the school is stranger - and darker - than they might have imagined.
Addergoole
is a contemporary fantasy Web Serial Novel with erotic, dark-fantasy and Fractured Fairy Tale elements. The link is to the SFW first page. Some other pages will have NSFW content. You Have Been Warned.
---
Tropes in this work include:
Adam and Eve Plot:

Dr. Regine designed the breeding project aspect of the school as a way to reverse the slow attrition of the pureblood Ellehemaei from weakening bloodlines, among other things.

Being Tortured Makes You Evil: Many, if not most, of the antagonists at the school are so because they were twisted by previous - purportedly much worse - students.
Boarding School of Horrors:

Addergoole is a boarding school for faeries who've been raised human. There's mind control built into the walls. Slavery and rape are encouraged. The older kids are geased to not tell the new kids anything until it's too late, and a lot of them don't want to warn them anyway. The whole school is a training version of faerie society.